Judith LeBlanc Speaking at the Women's March
Judith LeBlanc, Director of the Native Organizers Alliance spoke at the historic Women's March in Washington, DC, January 21, 2017.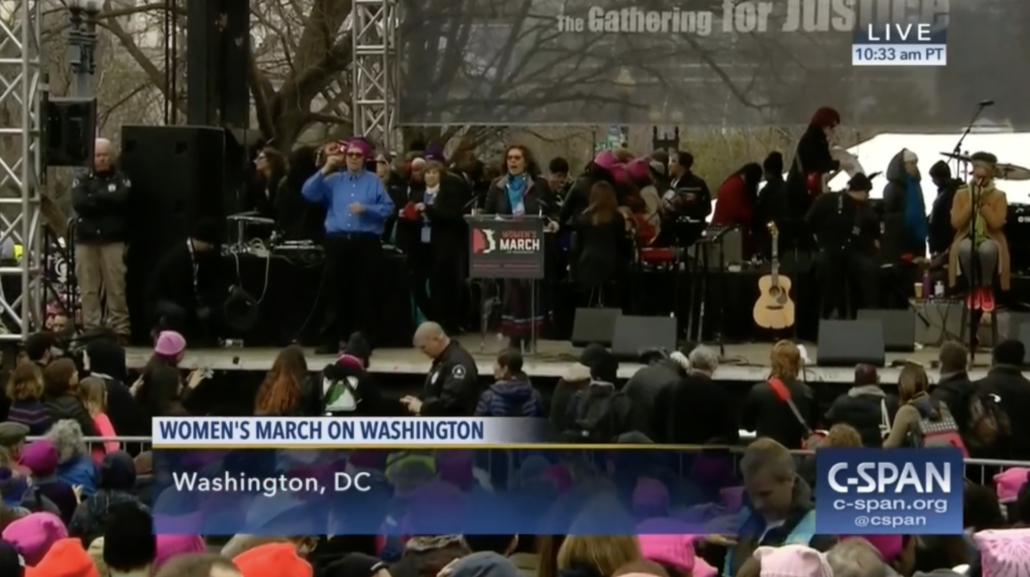 Here are her remarks:
My name is Judith Le Blanc and I am a proud member of the Caddo Tribe of Oklahoma and the Director of the Native Organizers Alliance. And I march for my daughter Jenna, and my nieces Nora and Marie and Victoria.
We march today for Mother Earth because water is life. Standing Rock has shown the world, our faith, our prayers, people power is stronger than rubber bullets. Across Indian Country generations have suffered from contaminated air, land and water after fossil fuel corporations ran with their profits. That is real carnage President Trump.
President Trump, we have heard you are considering privatizing Indian land for oil. You will not steal our land. We have been here before. Today, Native women are here, representing many nations. And we are marching in prayer. We are marching with our ancestors in our hearts. It's a Standing Rock moment.
And President Trump, let me break it down for you, a Standing Rock moment means our power is rooted in love for humanity. Our strength is drawn from our ancestors. Our medicine is stronger than rubber bullets of water cannons. Standing together, people united, we are people who are here today standing with Standing Rock, standing with Flint, Michigan, standing with Oak Flats, standing with immigrants united.
Today, indigenous people — water protectors all over the world — are saying no to pipelines, no to corporate plunder of sacred sites, no to wars for oil. President Trump, the movement that we're building is driven by faith, by hope, by love and prayers. We will stop the carnage of Mother Earth. Water is sacred. Water is life. Women are life. Thank you.
https://nativeorganizing.org/wp-content/uploads/2022/10/noa-full-logo-sm.png
0
0
NativeOrganizersAlliance
https://nativeorganizing.org/wp-content/uploads/2022/10/noa-full-logo-sm.png
NativeOrganizersAlliance
2017-01-21 16:56:04
2023-02-02 15:37:20
Judith LeBlanc Speaking at the Women's March